Imaging: More than just a pretty picture (part 1)
Craig Muir, Segment Marketing Manager, Trimble Geospatial Division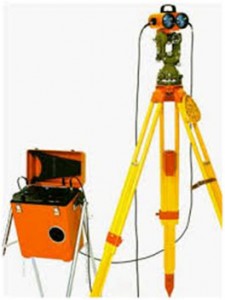 Imaging; it certainly is the buzzword around the geospatial industry at the moment and for good reason. Imaging is fast becoming a fundamental part of geospatial information both for the ability to capture vast amounts of information easily and quickly (capture now, measure later), as well as being able to deliver information that is immediately useful to the client. Industries and individuals are cottoning on quickly to the myriad applications of imaging across construction, emergency response, utilities and mining, transportation and the list goes on. As Geospatial professionals we need to put ourselves front and centre of this tidal wave of interest and show the value of rich geospatial information in this equation.
This three part series will follow a presentation I delivered at Transform 2015, a conference in May hosted by Australia's Trimble dealerships. There, I spoke about three things:
The progression of surveying technology and techniques – from the 'old days' when the pressure to get the job done meant collecting the minimum amount of data necessary, to the current day where the continued development of hardware and software has lead to huge leaps in productivity and the ability to capture data, process and deliver.
A couple of examples of the application of imaging technology to show the improved workflow for the geospatial professional and the improved outcome for the client.
Virtual reality and Microsoft Hololens – the future of imaging technology and the implications for the Geospatial industry.
Part one: From the 'old days' to now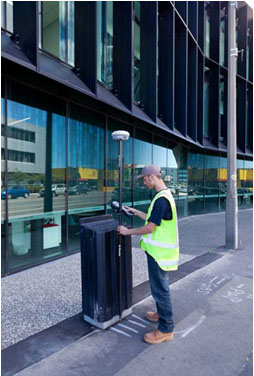 Things really have come a long way since I began as a professional surveyor – I don't care to say when! We had one Electronic Distance Measurer (EDM) shared between multiple parties, which meant there was a lot of pressure to get the job done so someone else could use it. What that led to was collecting the minimum amount of data in the shortest possible time. Forget about images, the job had to be delivered before they would even be back from processing. Sometimes you got it wrong which meant you either had to return to the site, or get really creative with the data you already had.
A Trimble old-timer, on board since 1988, I have had the privilege to be involved in the fundamental industry change over that time period. The continued development of the modern Total Station, GNSS and software has lead to huge leaps in productivity and the ability to capture data, process and deliver it. Accelerated and streamlined workflows have eased the pressure of just doing enough to get it done. Now you can generally capture more than what is necessary but sometimes it still means second guessing the client and there's still the potential to get it wrong.
This is where images, which can be captured using Trimble's VISION technology, come into play. Using VISION on Trimble's S-Series Total Stations and the V10 Imaging Rover, paired with R8S or R10 GNSS receivers, gives you the ability to capture spatially correct images to enhance the traditional survey deliverables. But, it's not just a pretty picture; every pixel in an image captured using VISION technology represents a point that can be measured using photogrammetric methods in Trimble Business Centre (TBC). It's not difficult to imagine how much easier this will make things, here's a few ways it could help:
Measure hard to access points such as stockpiles and facades without putting yourself in danger.
Collect data in stressful or dangerous situations quickly – think about natural disasters, accidents and crime scenes, these all represent high stress and often dangerous situations with a requirement for rapid data collection.
Expedite data capture – one image will take in a whole lot more points than if you measure one-by-one.
Measure missed data post-survey without revisiting the site – topographic features missed in the field can be easily and accurately identified in the TBC software after you've done the field work and, when the client tells you they want more information beyond the original brief, you'll have it right there.
Vision technology offers the benefits of minimal upfront planning and the ability to capture the data you require and more in a short timeframe. Again all of the data extraction is carried out in the office.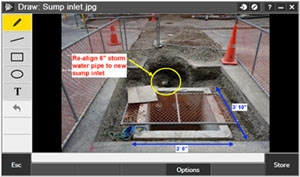 So far in this article you've heard about VISION technology as an augmentation of traditional field capture. This will continue to be a primary use of the technology with enhancements including much closer integration with in-field point capture methods as well as office software and deliverables. For example, expect to see things like the ability to annotate with notes directly onto images in the field and then overlay this with a building design to enable office-based inspections.
But, as imaging technology becomes more widely used, people are finding ways to leverage VISION as a standalone data capture medium. Tune in for the next part of this series where I'll talk about a couple of examples so you can see where VISION technology really comes into its own.
---
About Craig Muir


Craig Muir is the Segment Marketing Manager for Trimble's Geospatial division representing Asia Pacific. He's responsible for ensuring that Trimble's solutions meet the technology needs of its customers in the region. Craig graduated as a Land Surveyor from Otago University, New Zealand, in 1982 and began work for Datacom in 1988 which was acquired by Trimble in 1991. In his time with Trimble he has taken up roles in New Zealand, France, the UK, Germany and the United States.
0
0
Les
https://upgsolutions.com/wp-content/uploads/2016/09/UPG-LOGO-2.png
Les
2015-08-17 16:05:51
2016-12-21 15:52:41
Imaging: More than just a pretty picture (part 1)