Imaging: More than just a pretty picture (part 2)
Craig Muir, Segment Marketing Manager, Trimble Geospatial Division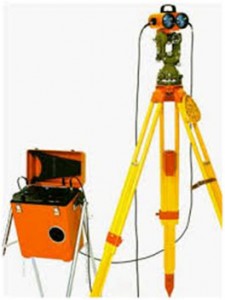 Imaging; it certainly is the buzzword around the geospatial industry at the moment and for good reason. Imaging is fast becoming a fundamental part of geospatial information both for the ability to capture vast amounts of information easily and quickly (capture now, measure later), as well as being able to deliver information that is immediately useful to the client. Industries and individuals are cottoning on quickly to the myriad applications of imaging across construction, emergency response, utilities and mining, transportation and the list goes on. As Geospatial professionals we need to put ourselves front and centre of this tidal wave of interest and show the value of rich geospatial information in this equation.
This three part series will follow a presentation I delivered at Transform 2015, a conference in May hosted by Australia's Trimble dealerships. There, I spoke about three things:
The progression of surveying technology and techniques – from the 'old days' when the pressure to get the job done meant collecting the minimum amount of data necessary, to the current day where the continued development of hardware and software has lead to huge leaps in productivity and the ability to capture data, process and deliver.
A couple of examples of the application of imaging technology to show the improved workflow for the geospatial professional and the improved outcome for the client.
Virtual reality and Microsoft Hololens – the future of imaging technology and the implications for the Geospatial industry.
Now you've read about why Geospatial imaging is fast becoming a fundamental component in delivery of Geospatial information (in part one), here are a couple of real-world examples.
Part two: real world examples
1. Trimble VISION and SketchUp for Bridge Inspection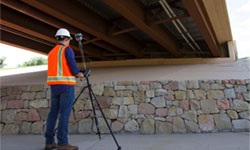 Bridge inspection is critical to ensuring the efficient and safe operation of roading networks. To be effective inspection needs to be carried out on a regular schedule and historically this has been a manual, time consuming, and potentially hazardous process. The Trimble V10 and Trimble Business Center have been effectively utilised to replace the traditional approach to inspection. The V10 enables efficient and safe pickup of all detail on a bridge structure and TBC can be utilised to extract necessary information and measurements post survey. However, it was quickly recognised that Trimble Vision technology offered further efficiency gains by providing the data to build a full 3D model of the bridge structures using Trimble Sketchup. A tablet app can then be utilised in the field to annotate and note changes directly onto the 3D model, greatly reducing the risk of data misinterpretation and the time between recording issues and addressing them.
2. Trimble VISION for Documentation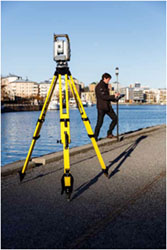 Surveyors are often called on to document current state where major change or demolition is being carried out. In these situations the client often does not have a specific need, only a requirement for sufficient information in case of future litigation, compensation or insurance claims. So for the surveyor the brief is "minimum cost to provide all the information that may be needed". Not an easy task with conventional surveying but Trimble Vision technology is ideally suited to this situation. The V10 can be utilised to quickly capture comprehensive data sets of an area of interest, which can then be archived for future reference. If the need arises, these data sets can be analysed in Trimble Business Center to extract the exact information that is required. This is true even when that information may not have been recognised as important or necessary at the time of the survey.
So there are a couple of Trimble Vision technology application examples that fundamentally improve on client deliverables and, as more of our customers embrace the Vision Technology, a steady stream of new applications are being discovered that we hadn't even considered. One thing we are sure of is that Trimble Vision offers huge efficiency gains in both field operation and office processing that enables the production of client deliverables that exceed expectations.
---
About Craig Muir


Craig Muir is the Segment Marketing Manager for Trimble's Geospatial division representing Asia Pacific. He's responsible for ensuring that Trimble's solutions meet the technology needs of its customers in the region. Craig graduated as a Land Surveyor from Otago University, New Zealand, in 1982 and began work for Datacom in 1988 which was acquired by Trimble in 1991. In his time with Trimble he has taken up roles in New Zealand, France, the UK, Germany and the United States.
0
0
Les
https://upgsolutions.com/wp-content/uploads/2016/09/UPG-LOGO-2.png
Les
2015-09-08 10:28:45
2016-12-21 15:42:22
Imaging: More than just a pretty picture (part 2)