Call + 61 7 3851 8300 for ordering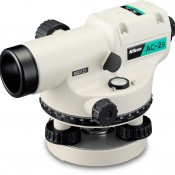 Nikon AP-8 Autolevel 28 x Magnification
Model # HGA42210
The economical, compact and lightweight AC-2S features a built-in compensator with magnetic damper that automatically levels line of sight. With an endless horizontal tangent screw, it is operable with either hand and employs a friction brake for faster operation. Moreover, it can be mounted on flat- or spherical-head tripod.
Other features
• Attainable accuracy in 1km double-run leveling of ±2.0mm
• 24x, ø30mm-dia. telescope for bright, erect and sharp images
• 0.75m/2.5ft. minimum focusing distance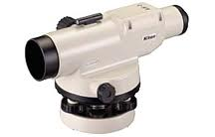 Nicon AS-2C Automatic Level - 34x Auto Level W/Circle -
Item # HGA24211
Precise measurements from waterproof, high-power telescopes Nikon AS/AE Series auto levels feature waterproof, high-power telescopes that help you make precise measurements even in the wettest conditions. They feature a unique automatic air-dampened compensator to prevent magnetic interference, and an endless horizontal fine drive to ensure smooth, precise pointing and angular measurement. AS/AE Series auto levels are easy to set up and easy to use. All four models can attach to both flat- and spherical-head tripods, and the standard optical sight lens helps you find your target quickly, easily and accurately. And a mirror with a pentaprism lets you view the circular bubble as an erect image during setup and sighting.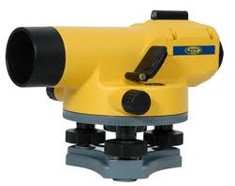 Spectra Precision® Autolevels
Item # AL32A
The AL2XX series automatic levels are designed for a variety of elevation control and alignment tasks including general building construction, cut and fill measurements, area leveling, and landscaping.
Reliable automatic compensators ensure stability and accuracy in the line of sight. Telescope optics are bright and clear providing sharp images for ease of viewing. A short focusing distance provides for better performance in tight spots or on steep slopes. Stadia lines on the reticle make distance calculations easy. A horizontal scale directly below the eyepiece makes angle measurement quick and convenient.
All models include a hard-shell carrying case, plumb bob, rain hood, hex key wrench, adjusting pin, and user guide.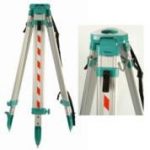 Futura Heavy Duty Tripod
Part # FT-HD-F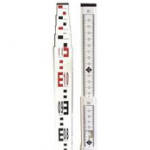 5 metre, 5 section aluminium Staff
Part # 06-805MII