PEDESTRIAN DETECTION FOR MACHINERY
Blaxtair is an intelligent onboard camera system capable of distinguishing between a person and other obstacles and thereby eliminating alarm fatigue.
It utilises 3D imagery, Artificial Intelligence and Machine Learning. This allows drivers and operators to confidently be more productive and improve on safety. It is used in any industrial operation, including warehouses, recycling operations, civil construction, earthmoving, quarrying and mining.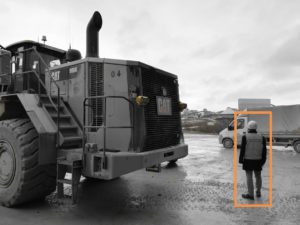 Blaxtair is designed for harsh environments and it adapts to all types of machinery. It is easy to use and does not require any specific maintenance.
The only one of its kind, the Blaxtair is the only smart camera able to distinguish a person from another obstacle in real time and alert the operator in case of danger.
Blaxtair, Preventing collisions in the most demanding working environments.
.