Surveyor gives first impressions of new Trimble TSC7 Controller and Trimble Access 2018 Software.
For surveyor Scott Lyttle, a consistently well-performing controller is the right-hand tool that helps him manage the diverse tasks and environments of land surveying.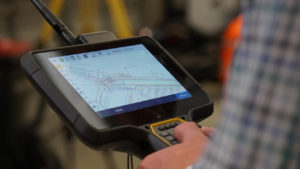 With an eye toward new ways to improve workflows as he leads survey crews for Flatirons Inc., Lyttle agreed to test Trimble's new TSC7 Controller and Trimble Access 2018 software.
Flatirons, a provider of surveying services based in Boulder, CO., uses a wide range of Trimble products and software for its work spanning the Front Range of Colorado and neighboring states. As senior survey crew chief for Flatirons, Lyttle keeps in his truck a Trimble S5 Total Station, R10 and R8 GNSS receivers, and a TDL 450.
"For a data collector, I always have the TSC3, the previous model, with me," said Lyttle, who has worked in surveying for eight years, starting with his schooling in New Zealand. "Essentially all data acquisition is done through that."
Lyttle has served as a beta tester using the TSC7 and Trimble Access 2018 since late 2017, putting the solution through the paces in his daily work in a variety of jobs and settings, and giving feedback and suggestions to Trimble's development teams as they prepared to go to market.


Article courtesy of Trimble Geospatial – Learn More.
https://upgsolutions.com/wp-content/uploads/2016/09/UPG-LOGO-2.png
0
0
Les
https://upgsolutions.com/wp-content/uploads/2016/09/UPG-LOGO-2.png
Les
2018-08-29 09:44:40
2022-05-31 08:27:40
A far, far better way