Opening our doors in Townsville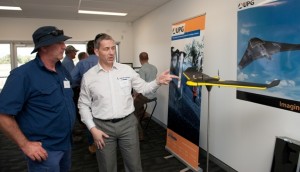 After a number of years working with our Townsville customers from other Queensland locations, we've opened up the doors of our new office in Townsville which we're sharing with our sister companies SITECH Construction Systems and DataHawk. To mark the occasion, we hosted a technology open day at the end of August, alongside SITECH and DataHawk to show a number of Townsville's construction, civil contracting, engineering and surveying community what our three businesses can offer.
Garry Essex, Director of all three companies, kicked off the day with a presentation about the long history of the companies since Ultimate Positioning opened its doors 125 years ago as a Brisbane watch maker and then moved into repairing and selling survey equipment. With the three companies, we now have over 140 employees spread across ten locations and are the authorised reseller of Trimble Technology for Eastern and Central Australia. The business has been owned and run by four generations of the Bright family and Adam Bright is in the business today.
Tom Williams, Survey Manager for Seymour Whyte, a long-time Ultimate Positioning and SITECH customer, then spoke about the journey his company has been on since adopting machine control technology in 2005. From modest beginnings and overcoming a number of sceptics, Seymour Whyte now uses SITECH's technology on all projects and expects its contractors to be 'Trimble Ready' before working on their jobs.
"It didn't take us long to see the benefits the technology made to our bottom line. The more machines that are working off it and the more the data is integrated through the right software packages, the more beneficial the results. That's why we use it across everything now." Williams says of the technology.
Seymour Whyte has used our solutions on projects such as the Toowoomba Range remediation, Townsville Port inner harbour expansion, Landsborough Highway rehabilitation and the Warrego Highway project from Jondaryan to Dalby.
It was the hands-on field experience that really drew the crowds to the open day though. With an M-series grader, excavator and roller on site, as well as a great deal of site positioning technology, the guests were able to see firsthand what the solutions are all about. We also showcased our imaging and monitoring offering and DataHawk, the business dedicated to rail development and maintenance, displayed their Trimble GEDO rail trolley.
Thanks to all those who made it along to the Townsville opening, we really enjoyed talking to you. If you're in Townsville and you'd like to have a chat with us, please touch base with Wally Armstrong our Sales and Support Manager in Townsville or phone 07 4421 2900.
0
0
Les
https://upgsolutions.com/wp-content/uploads/2016/09/UPG-LOGO-2.png
Les
2013-08-04 03:52:23
2016-12-21 13:13:44
Opening our doors in Townsville