Trimble Dimensions – Trimble wants to pay your way!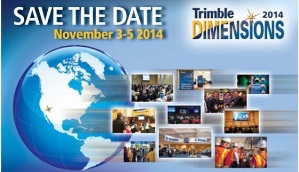 UPDATED STORY
17/07/2014
All the places have now been taken for the Trimble Geospatial Division's Dimensions promotion. If you qualified, we're really looking forward to hosting you while you're over there! If you didn't qualify and are still interested in going, head on over to the Trimble Dimensions page to find out more and to register for the event.
19/06/2014
If having Trimble pay your way isn't enough to convince you to be at Trimble Dimensions in Las Vegas this November, here are five more reasons why attending is a good business decision:
Network with 3500 like minded professionals from over 80 countries around the world
Spend three days taking part in hands-on technology displays, educational sessions, presentations and organised networking opportunities
Take part in off site demonstrations with the most innovative technology in your field
Find out from the experts about the hottest topics and ground breaking trends in surveying, mapping, construction, civil infrastructure, engineering, natural resources, mining, government, telecommunications, agriculture, transportation and logistics
Stay on top of the most current information on a wide range of technology and keep your competitive edge
This year, Trimble wants to send you to Trimble Dimensions for free with their sales promotion on Trimble Geospatial technology running until the end of July!
Find out more by clicking here.
Here's what attendees have said about Trimble Dimensions:
"This was my first Trimble Dimensions conference and I was impressed from top to bottom."
"I've been attending conferences (5-10 every year) since the mid 1970s and this was easily in the top five events I have ever seen and right on target in every way."
"Just a fantastic job by all concerned – I would like to bring a plane load of customers next time."
"This was my first Trimble Dimensions. For an event of this scale, I was extremely impressed with the level of organisation and how seamless it all was. I was able to attend more sessions that I anticipated and the quality of those sessions was exceptional."
0
0
Les
https://upgsolutions.com/wp-content/uploads/2016/09/UPG-LOGO-2.png
Les
2014-06-19 11:56:41
2016-12-22 16:15:32
Trimble Dimensions – Trimble wants to pay your way!