Congratulations to our 140 Flight School Graduates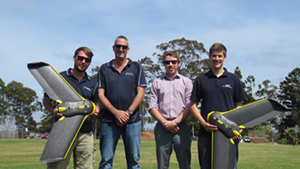 We're proud to say that, since opening in October 2013, over 140 people have graduated from our UPG flight school.
The CASA certified flight school for Unmanned Aerial Vehicles (UAV) is a five day course – the quickest in the country – and takes students through theory and practical components to gain their Remotely Piloted Aerial System (RPAS) certificate. This certificate is essential to operate a UAV for air work.
The school, run by our in house CASA approved instructors, is open to both UPG customers as well as non-customers and has been held in multiple locations nationwide since launching in 2013.
Paul Standen, UPG's Geospatial Segment Manager says: "Launching this flight school was a huge milestone for us. After 125 years in the survey industry, we pride ourselves on the level of expertise, service and support we offer. As the process to gain the necessary certification to fly a UAV can be complicated, we wanted to make this much quicker and easier for people.
"We're incredibly pleased with the feedback we're getting; and that we have been able to help so many people, in many different industries, through the process. Our low student to instructor ratio means students gain excellent experience during the flight school. This helps students pass their RPAS qualification."
CASA regulate the use of UAV for safety and getting the necessary certifications can be complicated. There is also a lot of misinformation about certification admits David Hobby, Chief Pilot, who runs the flight school.
"There are three things that a company needs to be able to fly UAVs – a company Operators Certificate (OC), a qualified Chief Pilot (named on the OC) and individuals with RPAS Level One certification from CASA (in a smaller company it may only be one person who is Chief Pilot and is RPAS certified).
"By attending and passing UPG's flight school and passing your Radio Operators Certificate of Proficiency, you will receive your RPAS Level One certification. Once you have this, you are eligible to apply to be the Chief Pilot for your company for which an additional interview with CASA is required." Hobby explains. "We can also assist companies to go through the OC process with CASA."
You can find more information about the flight school and how UPG can help you receive your CASA required certifications at www.upgsolutions.com/upg-flight-school.
0
0
Les
https://upgsolutions.com/wp-content/uploads/2016/09/UPG-LOGO-2.png
Les
2015-01-12 16:16:03
2016-12-22 16:04:32
Congratulations to our 140 Flight School Graduates