Surveying a mountain highway project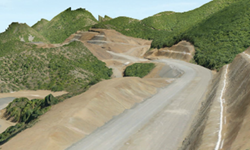 In the steep canyons of the Republic of Macedonia an international construction company is completing a major highway project. The highway will run 28.2km, traversing a natural gorge and crossing a river. It will provide a connection to the region's transport network.
The area's challenging geomorphology – including steep slopes, ravines, rivers, forests and protected areas – mean the survey project was designed and is being undertaken with great regard for the environmental conditions.
0
0
Les
https://upgsolutions.com/wp-content/uploads/2016/09/UPG-LOGO-2.png
Les
2015-11-12 08:35:49
2016-12-21 15:23:18
Surveying a mountain highway project