FARO moving closer to its customers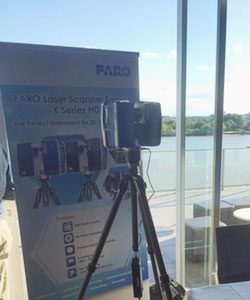 Some UPG customers and staff were fortunate enough to be invited to the FARO launch in Australia this week. FARO have opened their first Australian office in South Brisbane and held a special event to introduce themselves to the Australian market.
Up until now FARO have been servicing the Australian market through their Singapore office. The new office in Brisbane will allow them to get closer to their customers and distribution partners. The new office will be the venue for local workshops and training. Currently it staffs 10 people but that number is planned to grow in the future.
At the launch FARO unveiled their verticals. As there is no limitation on how the solutions can be used, they have narrowed the focus to four verticals.
Construction BIM/CIM
Covering the construction industry, the solutions allow accurate laser scanning of environments, contributing to the BIM or CIM process.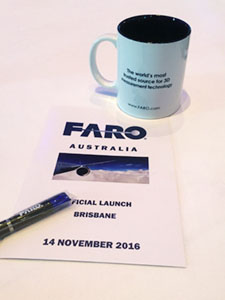 Factory Metrology
The factory metrology vertical focuses on the use of laser scanning in a factory setting, with specialist solutions.
Public Safety
Used in police work, and other community services, laser scanning allows those investigating to take a copy of reality from the scene.
Product Design
Predominately used for reverse engineering, the product design vertical also includes quality assurance. The video below was not the only interesting video shown on the day, but it certainly was the most popular.
UPG continue to be a distribution partner for the FARO laser scanning equipment. If you have any questions contact your local UPG office.
0
0
Les
https://upgsolutions.com/wp-content/uploads/2016/09/UPG-LOGO-2.png
Les
2016-11-15 11:17:05
2016-12-20 15:36:44
FARO moving closer to its customers