Important Firmware Update for Laser Scanners
Trimble TX5 and FARO Focus 3D X130 Critical Firmware Update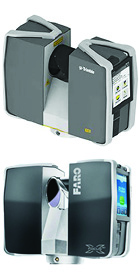 A firmware update, revision 5.5.4.50009, for the Trimble TX5 and FARO X130 laser scanners has been released by FARO Technologies, manufacturer of both machines. This update improves the reliability, accuracy, stability and data quality of scanners. The firmware update also addresses the following issues that might occur in rare instances.
Both models: The laser scanner may demonstrate variations in pan-axis movement speed, which could result in the scan being stopped before the whole horizontal scan range is traversed. This situation may lead to visible gaps in the resulting scan data.
Both models: The laser scanner may show incorrect "Scanner temperature is in the lower critical range" warnings.
Focus3D X 130: The laser scanner may contain points outside the specified scan range (130m) and be recorded as erroneous points within the specified range.
Trimble TX5: The laser modulation pattern may get corrupted. This may result in severe scan quality reductions such as increased range noise or fewer scan points. In extreme cases, scans without any distance data may be produced.
To check your Firmware Revision:
Go to Manage > General Settings > Scanner Details
If your Firmware Revision is Rev5.5.4.50009, you have the latest firmware and no further action is necessary.
Download the Firmware Update
To maximize the performance of your scanner and to avoid possible problems, Trimble and FARO recommend that all TX5 and Focus3D X 130 customers upgrade to this firmware revision.
To download the firmware update access the FARP website and enter your serial number.
If you have any questions about the firmware update, please contact FARO Asia Pacific on supportap@faro.com or +65 6511 1350.
0
0
Les
https://upgsolutions.com/wp-content/uploads/2016/09/UPG-LOGO-2.png
Les
2016-03-24 15:00:31
2016-12-21 14:33:56
Important Firmware Update for Laser Scanners