Managing a mobile workforce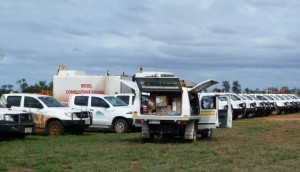 With the explosion of technology over the last few years, companies are seeing great opportunities to increase the efficiency of their mobile workforce. Not only do mobile workers need to stay connected in order to be efficient out on the road and interact seamlessly with their customers, the companies they work for need to be able to locate and communicate with them in real-time and store this valuable field work data. The answer for many companies is fast becoming Field Service Management (FSM) technology which enables them to gather information to understand what's happening out in the field and subsequently use this information to improve customer services, meet driver safety compliance, keep control of expenditure and improve operational efficiency.
At UPG we've recognised the need for FSM technology in Australia and we now have a number of solutions to tackle the challenges facing companies with mobile workers – both Trimble technology as well as solutions built in-house by our own Technology Solutions Group. The Trimble solutions that we provide have been ranked number one in fleet telematics in the world in the recent ABI Research Fleet Telematics report – click here for the full announcement.
Our Field Services Management (FSM) solutions use the process of telemetry to gather data and measurements out in the field and transmit this back to wherever you like for monitoring. This means you can do things like:
Increase worker productivity through monitoring things like arrival time, distance travelled, stops made and overtime

Lower fuel costs through route optimisation, reducing authorised vehicle use, curbing excessive speeding and lowering idling
Improve quality of service by adjusting mobile worker schedules and reassigning work while they're on the run
Improve driver safety to protect your public image and lower accidents and liability
The cloud-based portfolio enables us to offer industry-specific solutions hat will work just for you. Take a look at page 16 of Hastings Deering's Dealer News to find out how Hastings Deering has rolled out our field services technology to establish to establish a network of over 500 Service Mobile Offices which will improve communications between customers and their field service staff. Their vehicles are all being upgraded with our 'hot spot' technology so technicians can stay connected via their vehicles, making it easier to manage jobs and remain in contact when they're in the field or onsite.
For more information about our Field Service Management solutions, take a look at this video and please contact:
Anthony Kwok
National Field Services Manager
e: anthony_kwok@upgsolutions.com
p: 02 9484 9293
0
0
Les
https://upgsolutions.com/wp-content/uploads/2016/09/UPG-LOGO-2.png
Les
2013-11-14 06:59:17
2016-12-22 16:48:58
Managing a mobile workforce