An insider's guide to saving time and money in the field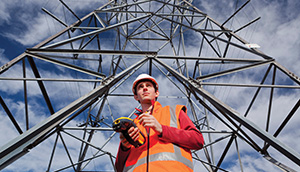 Carlos, Geospatial Sales Consultant from our Melbourne office, offers advice about how you can acquire spatially accurate Geospatial data using the new Trimble Geo 7 series handheld…
"As an avid user of the Trimble GNSS GeoExplorer handhelds throughout my time in Local Government GIS, it's now my job to recommend the best Mapping and GIS solutions for my clients. So, I want to talk a bit about my experience with Trimble's new Geo 7 series handheld – the only mapping device that can access all available/planned satellite constellations and that has an in-built laser rangefinder for remote positioning. I'll focus on how the high-accuracy GPS and laser rangefinder can keep your field workers safe and save you time and money on field data-capture projects."
Why can't I just use my phone?
"Day in and day out, GIS/Asset departments across Australia manage data, data and more data. There was a time when GIS/GPS data was inaccurate, incomplete and just plain 'dirty'. So organisations began using Trimble high-accuracy GNSS devices to collect field data in order to ensure data integrity and accuracy; because the last thing they wanted was inaccurate data.
"We now live in a time where consumer-grade GPS is all around us, from our phones to our in-car navigation systems, but one important note is that consumer grade GPS will not provide the high-accuracy GPS available through GNSS handheld devices such as the Geo 7X. So why would organisations jeopardise the very foundation they've built and start using consumer phones and tablets for their GPS data capture projects, risking their data integrity and accuracy?
 "In an age when organisations are trying to use these phones and tablets for field data capture, the question constantly being asked is, "how can I get higher accuracy with my device?" This question ultimately leads to calling us for advice, scouring the internet for information, looking for software, bits and pieces to connect to their devices to try and achieve the higher accuracy that a Trimble Geo 7X was built to achieve natively. The time spent searching, buying and testing a "cheaper" alternative ends up costing the same, or even more, than a purpose-built GNSS handheld receiver.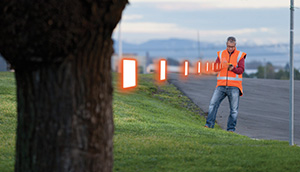 High-accuracy GPS will save you time and money
"The Geo 7X comes in a 1cm, 10cm, and <1m Submeter option depending on the accuracy requirements of the user. What this means for users is that they can capture field data and be guaranteed to achieve their desired levels of data accuracy to maintain data quality standards in their GIS. Whether the users are working under dense tree canopy or in a built up urban environment, the Geo 7X with Floodlight Technology permits field data collectors to keep working even in these harsh GNSS environments – where satellite signals are weak to non-existent. The ability to keep working means that field workers can get the job done more quickly, saving field workers time = saving time and money."
Keeping your field workers safe
"With the introduction of an in-built laser rangefinder, known as Flightwave Technology in the Geo 7X, the days of carrying a GNSS handheld and a laser rangefinder are no more. Whereas in the past, data collectors weren't able to record inaccessible positions; the in-built laser rangefinder now means you can reach previously impossible locations. Remote positioning ensures that your field teams are safe out in the field, for example, a data collector doesn't need to cross a road onto a road median strip to capture data; this can now be captured from the safety of the sidewalk. Pole capture projects don't need to be done on foot, data collectors can now stay in the safety of the vehicle and use the laser rangefinder to remotely capture the position of poles.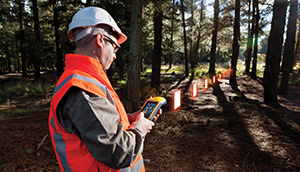 From the field to the office
"The Trimble field-to-office workflow is one of the many reasons customers use our solutions, because it has been developed for GIS and non-GIS users alike to ensure that anyone can pick up a Trimble handheld device and start collecting data out in the field. The Trimble Geo 7X can be used with Trimble Terrasync or is compatible with other leading field data-capture solutions such as ArcGIS Mobile, ArcPad and GBM Mobile. Best part is, all the highly-accurate field data goes straight back to your desktop GIS through Trimble Pathfinder Office desktop or Trimble positions export functions, whether you need the data in a shapefile format, CSV, KML, MapInfo TAB, etc."
Resist the temptation to go cheap
"I've spent a considerable amount of time in the Geospatial industry to understand what's important to organisations that capture, manage and analyse Geospatial data. When I see managers searching for lower cost options for Geospatial data capture, I say if you want GIS/Asset data that is reliable, consistent and accurate you need to get past the temptation to go with the 'cheap' option and focus instead on the benefits that high-accuracy will bring to your organisation now and in the future."
Geo 7X – summary of benefits
Use the leading GPS equipment from Trimble that has been proven to work time and time again for the transportation, utilities, natural resources and government industries
Quickly set up field data capture forms and upload to GNSS handhelds;
Easy field-to-office for GIS and non-GIS users, the Trimble workflow allows you to import field data directly into your GIS;
Take the guesswork out of determining the accuracy of your data with a high-accuracy device, whether you are working in open areas, dense forest or urban environments;
Stay connected to satellites with access to GPS, GLONASS, Galileo, Beidou and QZSS satellite constellations;
Stay safe by using the in-built laser rangefinder for remote positioning;
Consistently capture data at your required accuracy level (1cm, 10cm, <1m Submetre) without the need to look for 3rd party software, external cables, poles and antennas;
Comply with your organisation or client data capture accuracy requirements; and
Collect clean, accurate and consistent data every time
Contact Carlos
Carlos Zelada – Geospatial Sales Consultant
carlos_zelada@upgsolutions.com
03 9518 7400
0
0
Les
https://upgsolutions.com/wp-content/uploads/2016/09/UPG-LOGO-2.png
Les
2014-02-13 12:25:18
2016-12-22 16:34:56
An insider's guide to saving time and money in the field