A whole new world of surveying with the Trimble V10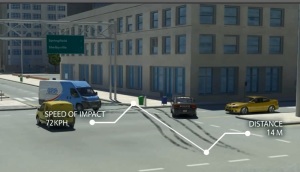 In October 2013 at Intergeo in Germany, Trimble announced their brand new V10 imaging Rover. Simon Sprague, our Brisbane based Technical Consultant for imaging and scanning tells us a bit about this new solution and what it will mean for the industry.
"The V10 is the first system of its kind, wholly dedicated to terrestrial photogrammetry and able to measure a 360° panorama at the touch of a button. It also works seamlessly with Trimble prisms and the R10 GNSS receivers – if you've got an R10 you can fit the V10 system onto the same pole.
"At the end of the day, we need to produce information that is useful to and understood by our customers. The great thing is everyone understands photos, so the data and information that can be provided using the V10 will be much more easily understood by the end client. Just think, rather than a 2D drawing, you will be able to provide your client with a 3D model which will incorporate a great deal of imagery and other measurement information of their site.
"The V10 can be used for a lot of traditional surveying tasks, but will be of particular use on dynamic sites, that require thorough visual and positional documentation at particular points in time.
"A good example of this is forensic examination, where a site is only available to survey for a short period, and all the evidence will be lost after the site has been re-opened. With the V10, you'd be able to quickly take photos of the entire site and then take this data back to the office to make the necessary measurements afterwards. This will save a lot of time, reduce the likelihood of critical measurements being lost once the site has reopened, and also mean you'll be capturing information about the whole site in one go.
"With the latest version of Trimble Business Centre 3.11 we can now extract positional information from the V10 data much more quickly. This is because we are now able to measure photogrammetry points via a single click (known within Trimble-land as Virtual DR™) whereas previously we had to measure from multiple photo views – this is a big step forward."
If you're interested in finding out more about the Trimble V10 system which will be available in Australia soon:
0
0
Les
https://upgsolutions.com/wp-content/uploads/2016/09/UPG-LOGO-2.png
Les
2014-03-07 14:09:55
2016-12-22 16:22:45
A whole new world of surveying with the Trimble V10