Getting the most out of your total station
Did you know that these functions were available in the latest Trimble total stations?
SureScan
Trimble SureScan allows you to collect the right points, not just more points. As you can see in the image below, the traditional scanning technology produces a radial surface, with ever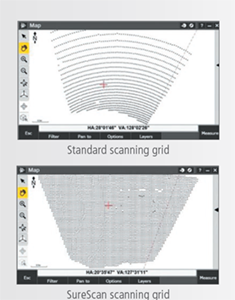 increasing gaps in the data as the measured distance increase, while the SureScan scanning grid produces a more even grid spacing.
This technology is ideal for civil applications such as road surveys, general topography and also volume surveys.
VISION
Trimble VISION allows surveyors to see what the total station sees through a live video feed from the controller saving you a trip back to the office. You can select targets with just a tap of the controller screen and avoid rework by visually confirming all points have been measured correctly before moving on.
Use the total station imagery to measure points that may be inaccessible, for example roof heights. Take photos from the total station and then measure the lines within Trimble Business Center (TBC).
You can also take a photo using the jigger and use the tools within TBC to make notes on it and save it.
VISION Panorama takes many photos in a frame that you create in Trimble Business Center Advanced. The software can stitched together these images and processed them into a single panorama, which can also be exported as a JPEG, this makes a nice deliverable to provide to customers.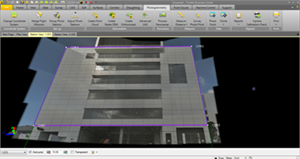 When DR shots are taken in the field they can be used to create a virtual plane in TBC. We can then overlay the image on the plane to virtually survey. Features can been identified with corner points created and linework introduced. This process is much quicker than measuring each individual point in the field and saves you time and effort. It is also handy if you have missed any items in the field because it saves you re-work.
Locate2Protect
Trimble Locate2Protect is a geo-locator that allows you to monitor the location and safety of your equipment and staff. It allows you to easily locate your equipment, set geo-fencing, to receive notifications when the equipment moves in or out of this location, and a G Force sensor to provide notifications if the jigger has been dropped.
Locate2Protect is available in Trimble S7 and S9 total stations and can be retrofitted in earlier machines. A subscription fee is required to activate Locate2Protect.
If you'd like to know more about any of these features contact your local UPG office.
0
0
Les
https://upgsolutions.com/wp-content/uploads/2016/09/UPG-LOGO-2.png
Les
2016-06-01 15:59:00
2016-12-21 14:27:34
Getting the most out of your total station