Trimble introduces a new mapping "workhorse" smartphone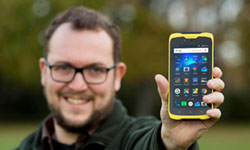 At the 2016 International Esri User Conference Trimble announced a new offering in the Trimble Mapping & GIS portfolio—the Trimble® TDC100 series handheld.
The Trimble® TDC100 handheld combines Trimble GNSS data collection technology with smartphone capabilities in one rugged, lightweight device. It's uniquely designed for GIS professionals working on job sites in a variety of applications including public works, utilities and environmental management.
Finally, GIS professionals can experience the advantages of a rugged professional-grade package for collecting data and inspecting assets in the field. The TDC100 combines the benefits of a true GNSS receiver in a smartphone form-factor, to give users the spatial accuracy, all-day battery life and ruggedness.
"We believe the TDC100 will be a workhorse" said Ron Bisio, vice president of Trimble's Geospatial Division. "It has been designed for mobile workers who need a functional field computer that is tougher than a consumer-grade device, while providing easy-to-use features and convenience that people have come to expect. Users can collect and retrieve highly accurate spatial data anytime, and from virtually any place, while remaining in touch with the office—with a single device."
Built-in ruggedness: Designed to withstand moisture and dust, shock, drop and vibration without the need for an additional protective case.
Large, bright 5.3 inch display: Readable even in bright daylight and through polarised sunglasses, you can work anywhere and at any time.
User-replaceable battery: There is no need to stop working in the field to recharge the device—just swap the battery out and work a full day, even with heavy use.
Carry one device: Combining the benefits of a true GNSS receiver, camera, cell phone and internet connectivity, now you have less equipment to carry into the field.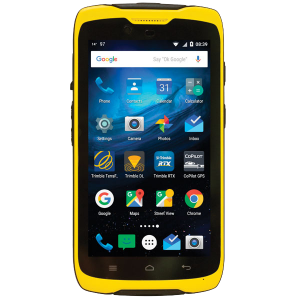 The Trimble TDC100 is available in two models. Both models are available with an Android operating system and Wi-Fi, with an optional 4G LTE cellular version. Outfitted with a bright, high-resolution 5.3 inch display, an 8 MP (Wi-Fi model) or 13 MP (4G LTE model) camera, and Li-Ion batteries in standard (3100mAh) or enhanced (4800mAh) capacity, the TDC100 supports GPS, GLONASS and BeiDou as well as Satellite-Based Augmentation System (SBAS) capabilities to leverage improved real-time accuracy.
For more information visit the Trimble website.
0
0
Les
https://upgsolutions.com/wp-content/uploads/2016/09/UPG-LOGO-2.png
Les
2016-08-05 09:36:05
2016-12-21 13:55:51
Trimble introduces a new mapping "workhorse" smartphone