BMEET turns to geo mapping to preserve important heritage site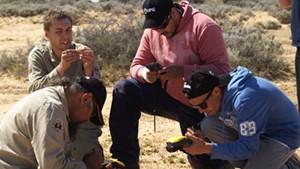 Young indigenous people from Southern NSW are compiling one of Australia's most detailed cultural artefact surveys, as part of a geospatial program supported by UPG and Trimble.
Developed by Barkindji Maraura Elders Environment Team (BMEET), the young community members will locate and identify thousands of ancient artefacts in a 3,600 hectare region around Fletchers Lake, a part of the Murray Darling Basin near Wentworth.
The area is an important heritage site for the local indigenous community and has been inhabited for up to 17,000 years. You can read more about that here.
The field survey will provide a detailed picture of the region's ancient cultural artefacts – such as important ceremonial sites, ancient hunting implements, tools and artwork. The data will help researchers better understand early indigenous culture and play a key role in future preservation efforts.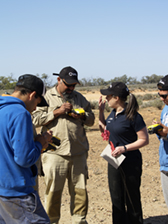 Greg Warren, General Manager, BMEET said this is an important initiative for his community.
"This project will help give us a complete picture of a cultural landscape and provide our young people with the resources and skills to protect Fletchers Lake in the future," Mr Warren said.
"The region around Fletchers Lake is important to our community and the surrounding infrastructure. This project will help preserve this area for many generations to come."
A critical component of the project is the training of young community members in geospatial skills.
The trained field surveyors will be able to pinpoint the location of artefacts using the precision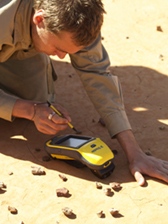 Trimble Geo 7x – a handheld satellite-connected computer that includes an in-built laser rangefinder and imaging equipment.
Information collected in the field will be automatically uploaded into a customised Trimble Pathfinder Office software platform for more detailed analysis. The data can be overlayed with vector GIS data, aerial photographs or satellite imagery and exported to GIS, CAD, or database systems.
Iain Barnfield, National Sales Manager, UPG said the education program would help provide participants with a good understanding of geospatial skills and techniques.
"We have been working closely with BMEET to implement the solution and develop a training program that will provide young people in this community with some unique new skills," Barnfield said.
"This is an important program and we are proud to have been able to be involved. It will help the local community and provide us with a more complete understanding of indigenous culture in the region."
The Barkindji Maraura Elders Environment Team Ltd (BMEET) was created by the Barkindji Maraura Elders Council (BMEC) in 2010 to provide employment and training opportunities in environmental, natural resource and cultural heritage work for young unemployed men and women in the Gerard, Dareton, Wentworth and Euston communities.
0
0
Les
https://upgsolutions.com/wp-content/uploads/2016/09/UPG-LOGO-2.png
Les
2015-02-13 08:17:42
2016-12-22 16:02:45
BMEET turns to geo mapping to preserve important heritage site