HyDrone-RCV
The HyDrone™ RCV (Remote-Controlled Vessel) is a hand-portable, remote control survey boat platform. It works in conjunction with the OHMEX / HydroLite-TM portable echosounder kit to conduct bathymetric surveys in ponds, lakes, rivers, and streams.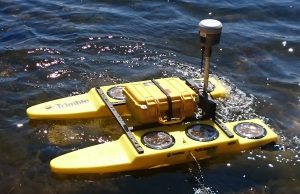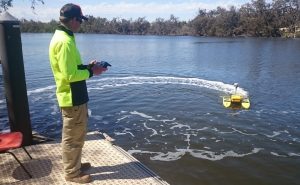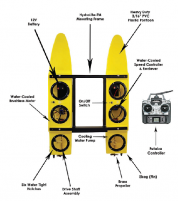 HyDrone RCV is a one-man survey-grade accuracy solution that accomplishes the same results as much more expensive RC hydrographic survey systems.
It's rugged, lightweight, has a wide profile to avoid tipping and watertight construction.
Manufactured from high quality marine components, the system is easily disassembled for transport and shipping.
UPG has further adapted HyDrone RCV to suit Australian environment and safety requirements.
Work environments include mines, sewage treatment plants, contaminated lakes, caustic ponds, tailings dams, salt mine ponds, harbors, and rivers.
Combined with OHMEX echosounder for depth measurements and Trimble GNSS or Robotic Total station for positioning, HyDrone RCV provides survey-grade accuracy in boty position and depth.
HyDrone can operate at speeds of up to 8 km/h (4.3 kts or 2.2 m/s) and has 2km range for  remote control.