Known by many names
, including RPA or drone; a UAV is an airborne platform that can be used to perform a wide variety of tasks. UAV's can help provide you with the information needed to make decisions in your work.
With the improvement of technology and more flexible airspace regulation. UAV's are increasingly accessible, economical and easy to use.
With a vast range of applications; Surveying, inspection, agriculture, mining, land management and more – take a moment to consider how a UAV capability might make your work more efficient or more valuable.
UPG has been in the UAV industry for over 5 years and now has a robust product offering from a number of industry leading manufacturers. With a specialist team who sell, train, support and operate its UAV portfolio; We're excellently placed to help you understand what kind of solution might be appropriate for your project, how it can integrate into an existing workflow and what's involved in developing or improving a UAV capability.
https://youtu.be/uabpL2WPLT0
https://youtu.be/OzB0nwMERxc
https://youtu.be/Zj_FZ9GhME0
https://youtu.be/NAZfByw9ewE
DJI – Multirotor drones from entry to advanced level
As the multirotor industry leader, DJI has developed one of the strongest brand names in the market. With a wide product offering and ongoing development, easy to learn and operate equipment, with a variety of operational methods from manual to fully automated, chances are DJI has a solution that should be considered for your needs.
Phantom 4 Pro – Entry level drone for surveying or video inspection
Inspire 2 – High performance system surveying or inspection
Matrice 200 Series – Professional grade range for surveying, video, thermal or zoom inspection
senseFly – Fixed wing professional survey
As one of the leading manufacturers of fixed wing drones, Sensefly products are the go to for survey or agricultural mapping work. Lightweight, with long endurance and a highly intuitive operating system, Sensefly ebee aircraft can produce data with real world absolute accuracy, safely and more easily
Ebee standard – Mainstay survey aircraft for use with ground control points
Ebee Plus – High performance survey aircraft – uses ground control or RTK/PPK workflow. Interchangeable multispectral or thermal cameras.
Ebee SQ – Agricultural mapping aircraft
Cameras – Sequoia, thermoMap
eBee Plus RTK/PPK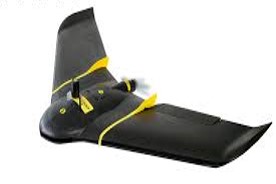 The eBee Plus survey drone is a large-coverage photogrammetric mapping system featuring RTK/PPK upgradeability, for survey-grade accuracy on demand
Support
There's a lot more to using a UAV than charging the battery and getting in the air. Through its close relationships with manufacturers and distributors, dedicated support pathways and staff who have intimate technical knowledge; UPG offers the kind of support needed for the whole data capture and processing solution that a UAV is part of.