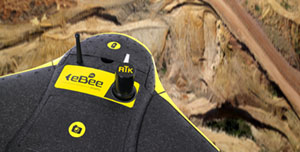 The senseFly eBee RTK offers surveying and engineering professionals a highly accurate and flexible mapping solution that works alongside your existing base stations. The eBee RTK has a fully integrated workflow, with flight planning and control software supplied. eMotion connects to the base station and broadcasts correction data to the eBee RTK – no additional third-party software is required.
Weighing only 0.73kg the eBee RTK comes in a compact carry-on sized case containing all of the components you need to take to the skies. Set up is quick and easy and launching is even easier – simply attach its wings and shake it three times to start its motor then throw it into the air. The artificial intelligence built into the senseFly autopilot continuously analyses data from the Inertial Measurement Unit and the onboard GPS to control every aspect of its flight, even landing.
Collecting data with the eBee RTK is easy too, with RGB, NIR, RE camera options and the flexibility to use it in one of three ways.
Place your base station on a known position and enter the base station's coordinates and characteristics into eMotion for it to stream correction data to the eBee via the ground modem.
Place your base station in a convenient location and let eMotion calculate your base's approximate position. You can correct the position in post-processing to achieve a high level of absolute accuracy.
Or use a virtual reference station by configuring your drone's eMotion software to receive VRS/NTRIP correction data.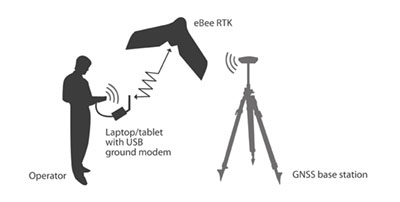 Use Postflight Terra 3D professional photogrammetry software, also supplied with your eBee RTK, to process your flight's photos into geo-referenced 2D orthomosaics, 3D point clouds, triangle models and Digital Elevation Models (DEMs), in just a few clicks. With the eBee RTK's GSD of down to 1.5 cm, relative orthomosaic/3D model accuracy of 1-3x GSD, and absolute horizontal/vertical accuracy of down to 3/5 cm (without GCPs), you can have full confidence in the accuracy of the outputs you produce. Once you have created your orthomosaic and 3D model, it's time to put this data to work – for example by measuring distances, taking cross-sections, extracting volume data (all within Postflight Terra 3D), or exporting to third-party software to add GIS data or create custom maps.

Get the specs and more from the datasheet.
For more information on the senseFly eBee RTK please complete this form.
0
0
Les
https://upgsolutions.com/wp-content/uploads/2016/09/UPG-LOGO-2.png
Les
2015-10-16 10:35:12
2017-01-11 08:47:25
senseFly eBee RTK