Empowering residents with geospatial technology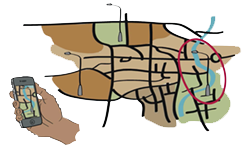 A county in Louisiana started receiving an increasing number of complaints from residents about streetlight outages and damaged trash bins. They were getting between 30 and 40 emails a day requesting repairs. They had no way of tracking the status after the complaint was submitted. The unstructured and manual process meant it could take up to three months to have a bin replaced. Things needed to improve but resources were limited.
They've been able to turn this around with geospatial technology.
They implemented Trimble Feedback, a cloud-based solution with integrated map functionality. Residents can easily connect through a configurable web platform. They can also report problems at any time from their phone, by email or on the website. Trimble Feedback manages the process, including sending reminders until the task is complete. The person who reported the problem also gets email updates on the status.
The county council members are excited about the solution because it has reduced complaints. Plus they have big plans for Trimble Feedback in the future. These including providing residents updates of safety hazards and road conditions after storms.
You can see all the efficiencies and savings in the Point of Beginnings story.
0
0
Les
https://upgsolutions.com/wp-content/uploads/2016/09/UPG-LOGO-2.png
Les
2016-09-13 09:31:22
2016-12-21 13:29:12
Empowering residents with geospatial technology