3D Spatial Imaging Aids Hazardous Rebuild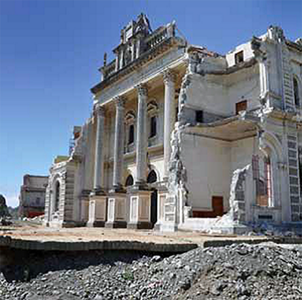 In the pre-dawn quiet on Sept. 4, 2010, New Zealand's second largest city, Christchurch, was struck by a magnitude 7.1 earthquake – with thousands of aftershocks following the quake for the next few months. In particular, a magnitude 6.3 quake on Feb. 22, 2011, resulted in 181 fatalities and wreaked havoc on buildings, city infrastructure and land already weakened by the September quake. Although smaller in magnitude, the February event was shallower and harder, and produced one of the world's highest recordings of peak ground acceleration. Yet another major quake, a magnitude 6.4 on June 13, 2011, significantly set back the city's recovery.
After the June earthquake, engineers divided Christchurch into four zones representing whether repair and rebuilding were viable: green zone – yes; red zone – no; orange zone – need more data; and white zone – not yet mapped. Approximately 9,000 properties comprising the orange zone needed to be quickly surveyed to better determine whether they were "red" or "green." For many of these properties, the main problem was land sinkage resulting from liquefaction – some land had sunk by up to 4.9 feet, making it less able to support construction. Engineers required survey data to understand what would be needed to bring land back above the flood level—and to determine whether it was worthwhile economically to do so.
Read how they used 3D spatial imaging sensor technology to assess the zones in this sensors online article.
0
0
Les
https://upgsolutions.com/wp-content/uploads/2016/09/UPG-LOGO-2.png
Les
2015-07-17 14:55:06
2016-12-21 15:54:47
3D Spatial Imaging Aids Hazardous Rebuild